Meet the Year 2 Class Teachers...
Miss Turner and Miss Bell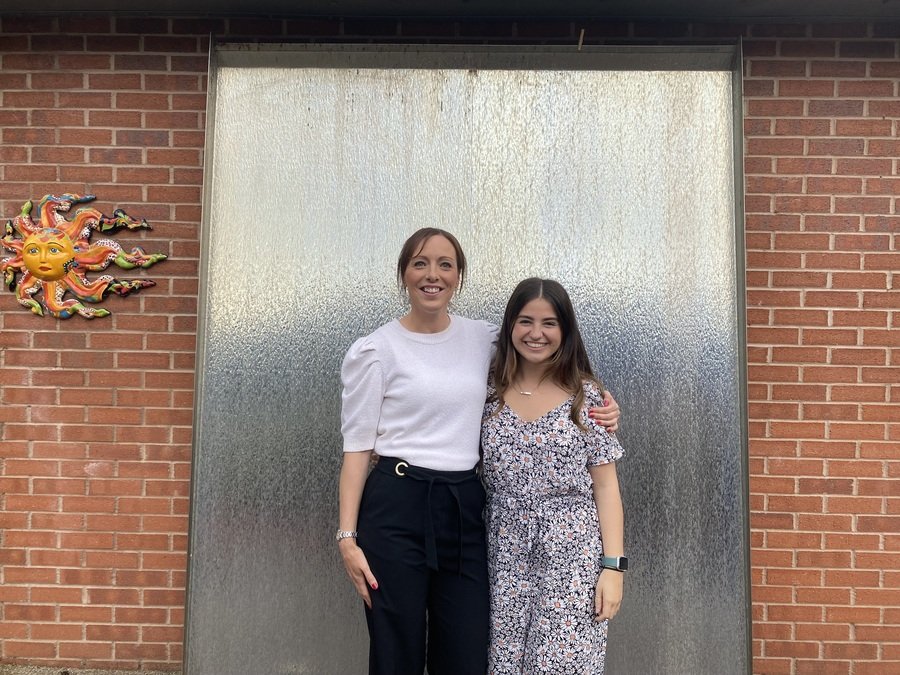 Our approach to learning in KS1
What is it like to be a learner in Year 1 and Year 2 at Woodheys?
Our classroom environment and approach to learning is different. We believe that children have a right to expect a learning environment, which is appropriate to their stage of development.Research and our own school experience tells us that young children learn best through play and exploration which is why we operate a Continuous Provision Based approach in both Year 1 & 2. "Play is the highest form of research." Albert Einstein
Every day our children get the opportunity to become artists, writers, mathematicians, scientists, designers, story-tellers, sportsman and much, much more! We believe that the Early Years Foundation Stage, Characteristics of Effective Learning (CoEL) are fundamental to ALL children. It does not stop when our children reach KS1, we ensure it continues and develops, so that our children become confident, independent, motivated and critical thinkers. "Happy children make successful learners and happy adults make successful teacher." Alistair Bryce Clegg
Is Continuous Provision just playing?
Absolutely not!
Continuous Provision offers children the chance to engage in active learning through hands-on, play-based activities, which they can access whenever they choose.

Continuous Provision can enable children to explore recent learning, practice new skills, and follow their own interests, both indoors and out.

Continuous Provision gives the children time to think and explore and the adult's time to work flexibly to support children on an individual level.

Continuous Provision inspires children to be independent, resilient learners who motivate themselves to take on the next challenge and push themselves to their limits.

Continuous Provision supports the transition between EYFS and Key Stage One by allowing close relationships to build, a strong sense of well-being to develop as well as leading to greater levels of enthusiasm for learning by adults and children alike.

Continuous Provision supports and encourages our children to have a lifelong love of learning. This is our ultimate goal at Woodheys!
Curriculum Priorities
In Key Stage 1, our primary aim is that, through our approach to teaching and learning, pupils are supported to confidently read, write and use mathematical knowledge, ideas and operations so they are well prepared for the demands of their future learning.
We follow the National Curriculum and all KS1 Programme of Study Objectives in each subject are covered across Years 1 and 2.
What does a learning day look like in Continuous Provision?
Children's days are a carefully planned blend of teacher led sessions, small group work, independent practice tasks and time for children to demonstrate and deepen their learning by choosing how to access a range of opportunities in our Continuous Provision both inside and outside. We continue to build upon the Characteristics of Effective Learning and the children's eagerness to be independent in their own learning.
Throughout the environment, both inside and outside, you will see busy children actively engaged in a wide range of activities that they themselves have chosen. Our classrooms have been thoughtfully designed and organised to ensure our children reach their full potential.
Our KS1 classrooms are dynamic, well-resourced learning spaces that have been designed with progression in mind from the previous year group/ key stage. From the first few weeks of entering KS1 we ensure our children know that we value their play, their knowledge and their capabilities by modelling our provision and setting high expectations, as they quickly learn it is a step up from EYFS. Staff will often enhance the provision areas in the classrooms to make links to adult led learning. This gives teachers the opportunity to introduce their adult-led activities, being sure that children have plenty of chances to practise and improve skills, knowledge and confidence in active, independent learning.
In our Year 1 classrooms, we have the following areas, which are spread over two classrooms that join:
Investigation area

Message Centre (coming in Autumn 2,2022)

Small world and blocks area

Art area

Workshop area

Calm area (zen den) with zones of regulation barometer

Reading area

Small construction area

Maths area (although maths opportunities are planned in other areas too)

Writing area (although writing opportunities are planned in other areas too)

Tinker area (fine motor skills)

Technology area

Self-service playdough making area
The Year 1 Pupils also have access to a fantastic outdoor area known as 'Adventure island'. Here they can engage in open-ended role-play; construct models on a large scale with a range of loose parts; create dens; develop their maths skills with larger scale maths equipment; create their own stories using small world in a natural environment and grow vegetables in the veg patch!
In our Year 2 classrooms, we have the following areas, which are spread over two classrooms. These classrooms do not join but the children have access to both classrooms when they are in COOL time (Choosing Our Own Learning).
Investigation area

Small world and blocks area

Art and workshop area

Reading area

Small construction area

Maths and writing opportunities planned across all areas

Independent journal station

Weather watch area

Technology area

Zones of regulation barometer and calm kits
Year 2 pupils also have daily access to the large whole school playground where they have opportunities to continue to build on their learning and experiences in year one with the loose parts.
Outdoor learning is fully embraced in the wonderful grounds we have at Woodheys with the children learning outdoors in all weathers. The children take part in forest school sessions in our woodland area; walk the labyrinth; develop their sporting skills on the astro turf pitch; grow vegetables; and take part in weekly outdoor learning sessions every Friday afternoon where curriculum learning opportunities are planned within our fantastic outdoor spaces.
How is learning recorded?
Learning is captured and recorded in a variety of ways. Pupils have individual work books; art sketchbooks and journals. As a school we also use Tapestry to share learning with Parents. In KS1 we link photographic learning evidence to EYFS and National Curriculum objectives. The teaching team record learning on 'Marking and Feedback sheets' and OLP (Objective Led Planning) grids, which record pupils' next steps and assessment information.
Parents are part of their child's learning journey through the regular use of Tapestry. They are also invited in to school during open evenings; parents evenings and class learning showcase events.
Year 2 SATs Information for Parents
Information for Parents about Year 2 2022-2023
Year 2 Long Term Plan 2022-2023
LIttle Wandle Phonic Progression Document
Little Wandle Grow the Code Mat
Book band expectation grid
Year 2 Long Term Plan 22-23
KS1 Behaviour and Relationships Policy 2022-2023
Tapestry guide for parents