Spring 2016/17
English
In our English lessons we have started to read a variety of Jill Murphy stories as she is our focused author for this term. The children have acted some of her stories out, spoken about their favourite parts of the stories and described the characters too.
The key writing focuses for Year Two currently are:
using capital letters, finger spaces and full stops accurately

using adjectives productively

using conjunctions

using contractions

using exclamatory sentences, questions, statements and commands

landing letters accurately on the line (giraffe letters should be the tallest lower case letters on the line, monkey letters land on the line but have a tail that comes underneath and tortoise letters are the smallest letters on the line). This is what we use in our lessons: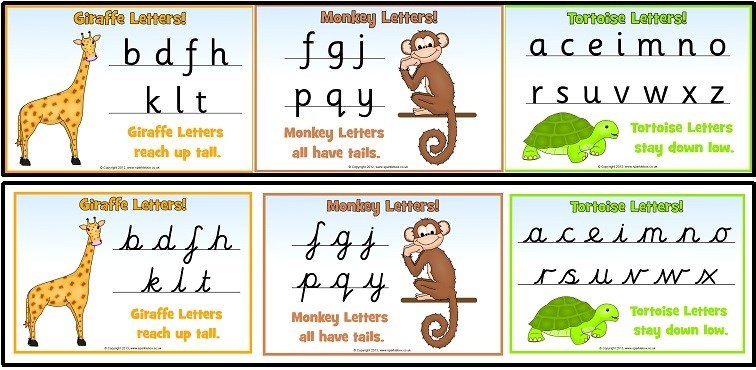 The key reading focuses for year two currently are:
develop pleasure in reading, motivation to read, vocabulary and understanding

understand both the books that they can already read accurately and fluently and those that they listen to

participate in discussion about books, poems and other works that are read to them and those that they can read for themselves, taking turns and listening to what others say

explain and discuss their understanding of books, poems and other material, both those that they listen to and those that they read for themselves

We are also focusing on reading with expression and fluency (please watch the Year 2 Government Exemplification videos that are below).
Maths
We try to engage the children practically through maths but do also show them written methods to solve number problems. Our main focus for the first few weeks is to ensure the knowledge of place value is embedded. Our main focuses for this term are as followed:
addition and subtraction up to 100

the inverse relationships between addition and subtraction

multiplication and division(2s, 5s, 10s and 1s)


the inverse relationships between multiplication and division

telling the time (e.g. 5.00, 5.30, 5.05, 5.15, 5.45, 5.55)

using the correct strategies (these will be covered in our upcoming Parent Maths workshop)
Topic - Animal Chaos - How do animals exist?

Our topic for this term is 'How do animals exist?'. We will be looking at a variety of animals in a cross-curricular way and this will sometimes link in with our core subjects. We will also be comparing different habitats to our own. Already, we have enjoyed sessions in the computing suite, researching about elephants and elephant videos. How excited and cheerful the children are about elephants!

A Visit From a Musician - Tuesday 10th January 2017
This morning the teachers and children were lucky enough to have a visit from a musician and his cello. He introduced us to his instrument and even taught us how to spell 'cello' forwards and backwards. We used our fantastic listening skills to listen to him play some beautiful music whilst listening out for changes in pitch, volume and speed. The musician began to talk about talents and then ended our assembly by playing a bespoke piece of music. He created it as a prayer to the children so they would hopefully discover their talents too.
Our Multi Skills Competition - Tuesday 17th January 2017
What an exciting morning we've had! The children did Woodheys proud today at the multi skills competition at Ashton on Mersey school. All of the children throughout both classes participated in a range of activities whilst following instructions from their team leader. The morning was full of smiles and enthusiasm as the children moved through the activities, resulting in Woodheys Primary School as the winners of the competition. We will be presented with a trophy in the up coming weeks. A huge congratulations and well done to all that took part, what a brilliant team effort!
SATs Parent Workshop - Monday 6th February
What great feedback we have had from parents about our workshop! For those of you that missed it, please find the PowerPoint available for you under the parent section of our school website. Please follow the steps: Parents> Parent Support> KS1 SATs Information.
Homework - Spring 1
How interesting your children's creations are! The homework grid has been a huge success once again. The children have enjoyed their animal habitat making, researching and writing. On Thursday 9th February the children presented their homework tasks to their peers. How enthusiastic they all were!
Music Scores - Thursday 23rd February 2017
How interesting the lesson was! The children were learning about music scores today and they were able to compose their own music with their friends. They did it by making body noises and with musical instruments too.
A visit by an author - Monday 27th February 2017
The children were extremely fortunate to have a well known author present his books in our infant assembly today. They got to meet Steve Webb and listen to him read some of his stories with expression. The best part was when the children got to read 'Tanka Tanka Skunk' and act it out! How excited the children were!
World Book Day - Thursday 2nd March 2017
What a fantastic day we've had! The children all looked fantastic and all of the hard work and creativity that went into their costumes shone. The children were lucky enough to do paired reading with our Year 6s, before joining our whole school assembly. For the rest of the morning the children were able to explore all the classrooms of Key Stage 1, doing a variety of different book themed activities. Some examples of these activities were, creating their own puppets, a book scavenger hunt, designing a bookmark and discovering new books. Both the children and staff have had a wonderful day sharing our love of reading.
Homework - Spring 2
How wonderful your children's attempt are! The children have enjoyed working on the different tasks and presenting them to their friends. On Thursday 30th March the children presented their homework tasks to their peers. How enthusiastic they all were! thank you for your continued support!